The Allergy & Free From
Show 2019
London Olympia
What a weekend! What an event!   Ok finally we have managed to unload the van and put our swollen feet up with a warm cup of much needed coffee and have a tired chat about what has transpired over the course of this hot sunny weekend at Olympia.
Firstly we have to say a huge thank you to F2fevents for insisting that we come again this year and making the road easy for My Gammie's as a small but rapidly growing company to be there (Lee, thanks for being charmingly insistent…)
On that note F2fevents are not alone………..  what a buzz; the support and encouragement we have received over the Olympia weekend has been exhilarating!!! It was great to meet other parties and some very important individuals, families and groups that have further inspired us and re-enforced why we do what we do.
Clare Bristow – With the sad loss of Sadie – It was a pleasure to meet and relate with Clare, you have so much further inspired My Gammie's to continue our voyage.
Tanya & Nadim Ednan- Laperouse – Again with the sad loss of Natasha – We are so grateful for your continued strong commitment to make change happen.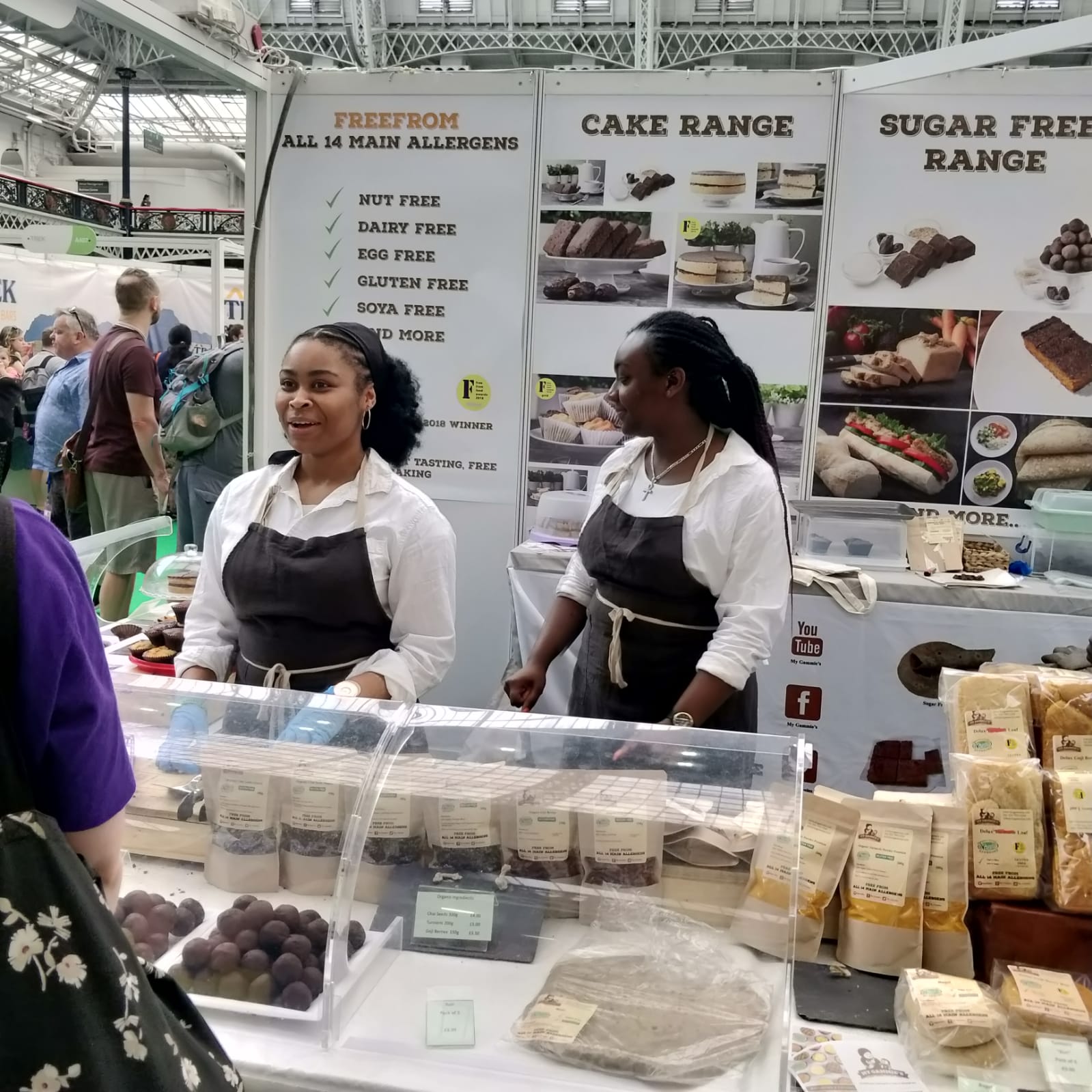 Further thank you to:  Free From Food Awards, Angela Waters, Anaphylaxis Campaign, Vegetarian Society, Coeliac Uk, to_market.
Thank you for everyone who tweeted and commented about us on social media.  Your support is much needed and supported.
A special thank you to all our customers new and old.  My Gammie's exists for and because of you all!
A big thank you for our main suppliers who delivered our last minute orders:  LucyBee, Doves Farm, Hodmedods, Littlepod and Peacock.
Finally, our warmest thank you is for our staff – our invaluable bakery assistant Nuzhat who came and helped in the night shift and the three gorgeous hostesses that helped at the stand at Olympia – Christina, Jodi and Savannah.   
My Gammie's Team – Shafiq, Rebekha and Marie-Anne